Spinal Cord Injury Medicine Fellowship
Comprehensive training in caring for patients with spinal cord injuries and disorders. For more information, please email us.
Spinal Cord Injury Medicine Fellowship
Comprehensive training in caring for patients with spinal cord injuries and disorders. For more information, please email us.
Spinal Cord Injury Fellowship
MetroHealth Spinal Cord Injury Medicine Fellowship from MetroHealth on Vimeo.
The MetroHealth Rehabilitation Institute, with Case Western Reserve University, the Louis Stokes Cleveland VAMC and The Cleveland Clinic Foundation, offers a 1-year ACGME-accredited fellowship in SCI Medicine. This fellowship program offers a unique opportunity to work in three healthcare systems, including a center funded by NIDILRR as a SCI Model System in the setting of a Level I Trauma Center (MetroHealth Medical Center), a designated Spinal Cord Injury Center and Regional Polytrauma Network within the Veterans Health Administration, and a renowned referral and treatment center for multiple sclerosis and Spinal tumors (The Cleveland Clinic Foundation). The SCIM fellow actively participates in clinical and research activities with the Cleveland FES Center, which is internationally acclaimed for pioneering research in clinical applications of FES for individuals with SCI.
The Case Western Reserve University and MetroHealth SCIM fellowship is a robust clinical and research training program. Our collaboration with experts from institutions across the area provides diverse educational and experiential opportunities for trainees. Below are a few highlights detailing how the program goes far above and beyond the basic ACGME requirements including new efforts or plans still in progress.
Extensive redesign, remodeling and expansion of MetroHealth Rehabilitation Institute of Ohio
Strategic reorganization of clinical, education and research custom made spaces
Scheduled for completion around Summer 2021


High volume inpatient (recently averaging 86 traumatic SCI admissions, 77 nontraumatic SCI admissions and 78 acute SCI consultations) and outpatient (estimated at 900 adults/40peds at MHMC, 950 adults at the VAMC and at 500 adults at the CCF) traumatic and non-traumatic spinal cord injury and disorders
Weekly protected continuity clinic to follow patients from injury through chronic care
Level I adult and level II pediatric trauma center at MetroHealth and Polytrauma Network Site at VAMC
One on one or Small group SCI didactic curriculum supplemented by SCIM board preparatory lectures
Monthly MetroHealth PM&R grand rounds and quarterly city-wide PM&R grand rounds where clinicians and researchers from four Cleveland PM&R departments collaborate and learn
MetroHealth PM&R resident didactic series
100% SCIM board first time board pass rate since 2006
Annual attendance at ASCIP intensive review course
ASIA Learning Center certifications (InSTeP, WeeSTep, SkinSTeP, ASTeP, SpAsTeP)
Basic Life Support (BLS), Advanced Trauma Life Support (ATLS) certifications to facilitate on EMS experience with Metro Life Flight (Helicopters staffed with flight physicians, acute care nurse practitioners and flight nurses)
Annual attendance at the Cleveland Clinic Spasticity and Neuromotor Rehabilitation or Multiple Sclerosis Symposium
Advanced research and quality improvement didactic curriculum
Collaborative Institutional Training Initiative and Institute for Healthcare Improvement certifications
Inpatient mechanical ventilation management and weaning at 2 different clinical centers
Weekly urology conferences with neuro-urologists and fellows at VAMC
Weekly clinical conference with academic traumatologists at MetroHealth
Clinical rotations with dedicated time working with neurology, urology, neurosurgery, traumatology, neurocritical care, plastic surgery and orthopedic surgery rotations
Nationally recognized telehealth expertise at VAMC
Multiple sclerosis and amyotrophic lateral sclerosis exposure via inpatient, outpatient and telehealth clinic with neurologist at ALS Association Certified Center (VAMC)
Elective experience with Neurocritical care, pediatric SCI and emergency medical system highlighted by hyperacute SCI experience with Metro Life Flight - air and ground critical care transport service
Encouraged participation with seating/wheelchair clinic, driver training clinic, SCI osteoporosis clinic, wound clinic, ultrasound clinic, interdisciplinary tendon and nerve transfer surgery clinic
Six ABPMR SCIM board certified attending academic physicians
Other faculty credentials include membership in the National Academy of Medicine, past president of the AAP, president of the North American SCI Consortium, ASIA and ASCIP board of directors as well as committee memberships at numerous national societies
Didactics and mentorship from nationally recognized SCI research scientists, physical therapists, occupational therapists, psychologists and SCI-specialty nursing
Fellows are typically presented for academic appointment as a Clinical Instructor and invited to monthly faculty meetings where they are treated as peers
Bedside and clinic wound debridement, opportunity for wound flap surgery observation
Intrathecal baclofen trials, placement, refills and complex reprograming, including fluoroscopic and ultrasound instruction
Chemodenervation by botulinum toxin and phenol using anatomic landmarks, electrical stimulation, ultrasonographic and electromyographic guidance
Diagnostic and procedural ultrasonography by SCI and MSK specialists
Clinical and research electromyography
Hands on training on secretion management
Pressure mapping
Diagnostic and therapeutic electrical stimulation
Performing and reading a wide variety of urodynamic studies
Weekly attendance at MetroHealth Rehabilitation Institute research meetings with senior leadership and investigators where proposed and former studies are reviewed, invited researchers speak and relevant topics to the research community are discussed
World leader in functional electrical stimulation allowing for clinical, research and surgical exposure
Integral involvement with SCI model system team (one of only 14 in the USA) lead by Dr. Kimberly Anderson, PhD including attending weekly research meetings, administrative support for original projects and participation with ongoing studies
Collaboration with trauma registry for ongoing research including fellow-initiated
Two months (or equivalent time) for research and elective specialty clinics with ample additional opportunities to customize clinical rotations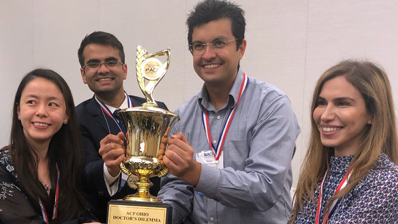 Ranked #4 in the Nation in NIH research funding for PM&R
Received 12 million dollars in new grant funding as principle investigators from National Institute of Health, Department of Defense, Defense Advanced Research Projects Agency, Coulter, StrokeNet Fellowship, National Institute on Disability, Independent Living, and Rehabilitation Research and of course Neilsen Foundation grants.
Gave 56 invited presentations and 49 posters or abstracts at more than 30 different national or regional conferences
Published 40 peer reviewed articles in 30 different journals as well as 2 books and 14 book chapters
Frequent bedside teaching with PM&R residents, Orthopedic residents and medical students
Formal presentations at PM&R residency didactics and grand rounds
Formal presentations at annual to present at United Spinal monthly meetings and MetroHealth SCI Community Annual Conference
Invitation to speak at annual regional conferences (e.g. annual provider conference at VAMC on SCI/D) and support for national or international conferences where fellows routinely present papers or posters
Medical student didactic education experience
Active collaboration and support with the local Northeast Ohio United Spinal Association Chapter in monthly meetings, events, fundraising, research and community outreach and education
Involvement in extracurricular volunteer opportunities including the annual Fresh Air summer sleep away camp for children with tracheostomies and/or mechanical ventilation where SCI fellows are encouraged to volunteer for 1 week as a medical buddy
The fellowship program leadership group meets regularly, including biannual Clinical Competency Committee meetings and quarterly Program Evaluation Committee meetings to consider potential concerns and improvements. As part of our most recent PEC meeting, we created an action plan and have begun implementing the following new innovations.
Reorganization of the didactic education schedule to avoid gaps or redundancy from person to person or site to site
Didactic innovations such as the creation of a recorded lecture library and inclusion of more remote lectures from nationally renowned experts to allow for a "flipped classroom" model where passive knowledge acquisition occurs more independently to allow in-person education to emphasize dynamic discussion and case-based simulations
Expansion of continuity clinic experience to include both MetroHealth and VAMC so each fellow gets more longitudinal experience in both private and VA system of care
Incorporation of more procedures in the MetroHealth continuity clinic, when appropriate
Increased protected time for specialty education including ALS and MS at our ALS Association Certified Center, reconstructive plastic and urology surgery electives, sexuality/infertility clinic and spina bifida clinic
Increased participation with tendon and nerve transfer surgery at MetroHealth and VAMC, in both the clinics and operating room
Expansion of fellowship trained, board-certified SCI faculty through recruitment at both MetroHealth and the VA medical center in the near future
Establishment of after-hours journal club for fellows and faculty led by the fellows to increase camaraderie, learning and discussion across institutions
Exploration for opportunities to establish new SCI Fertility clinic (VAMC) and Adult Spina Bifida transitional care program (MetroHealth) for improved clinical care and fellow education experiences