Living in Cleveland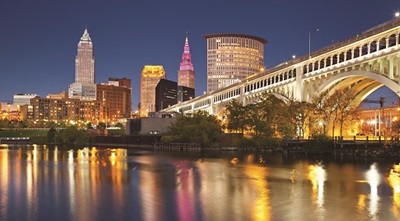 MetroHealth's main campus is located on the near west side of Cleveland. Situated on Lake Erie, Cleveland is a diverse, dynamic mid-sized city, with growth and revitalization happening all over town. A renaissance that began with sports venues downtown continues with rejuvenated historic neighborhoods on the west side and a burgeoning corridor between the city center and the east side.
Cleveland has a rich cultural base, with numerous museums, theaters and sporting events. It is the home of the internationally-renowned Cleveland Orchestra, the
Rock and Roll Hall of Fame
, the
Cleveland Museum of Art
,
Playhouse Square
(the largest theater district outside of New York City), the
Cleveland Playhouse
,
Karamu Theater
, and
Cleveland Opera Theater
.
Professional sports are also well-represented, including the
Cleveland Indians
(baseball),
Cleveland Browns
(football),
Cleveland Cavaliers
(basketball), and the
Cleveland Gladiators
(arena football). Outdoor enthusiasts can take advantage of the
Cleveland Metroparks
, an extensive park system surrounding the Cleveland area. This "Emerald Necklace" offers boating, swimming, horseback riding, golfing, cycling, hiking, fishing, and camping facilities.
The cost of living is very reasonable, with neighborhoods that range from quiet residential streets to bustling urban blocks. Cleveland has also become a food and drink destination, with a long and constantly-growing list of restaurants and craft breweries.
Within a day's drive are more points of interest -
Amish country
,
Cedar Point
(world's #1 roller coaster park), downhill skiing, a
national park
with easy access points, an
outlet mall
, and many other diversions to keep you busy when you are not at the hospital.


Additional information about living in Cleveland: