Welcome from Program Leadership
From the Director
Welcome to our Family Medicine Program where we are dedicated to excellence in resident and student education, faculty growth and high-quality patient care for all.

Resident education is at the heart of our department family. Our faculty is deeply committed to education, to our residents and to each other. It is an environment where every person is important and everyone has a place. Our residents come from all backgrounds, and represent a wonderful diversity reflective of the diversity of our whole MetroHealth community. We all work together to support each other in learning and growing every day.

The training experience offered at MetroHealth is unparalleled, as we strive to provide the best patient care to all regardless of ability to pay. Our underserved patient population and strong emphasis on the development of community-based care affords our residents vast exposure from complicated, high acuity inpatient admissions, to population health management in our Cleveland city school health program. Our faculty, residents and graduates highly value underserved patient care, and most choose to stay in the underserved setting, often training the next generation of family physicians.

The MetroHealth Family Medicine Residency has deep roots in excellence in patient care and education, borne from the conviction that every person deserves support, care and good health. On behalf of our residents and faculty, I hope you will find that our program's mission, vision and tradition welcomes you to a new family.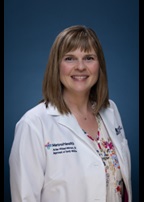 Amber Whited-Watson, DO

Residency Program Director, Family Medicine
---
From the Chair
We are thrilled you have chosen to explore the many opportunities that exist for you within our program. We are proud to share some of the details that make our department unique and that can provide for you an exciting, comprehensive training experience.

MetroHealth Medical Center is the flagship teaching hospital of The MetroHealth System, nationally recognized for excellence in providing comprehensive care to all people — regardless of their ability to pay. The public hospital supports many residency training programs along with a host of fellowships, which enhances the training experience for residents of family medicine. Additionally, we are affiliated with Case Western Reserve University School of Medicine offering expanded opportunities in research, international health, and faculty development.

Valuing our special commitment to the community, the Department of Family Medicine provides patient care in a number of community health center locations. These community health centers are located throughout Cuyahoga County and each serves a slightly different patient population. A portion of our residents maintain their continuity practices at the MetroHealth Broadway Health Center — an urban neighborhood clinic site.

We also cherish the rich, multi-cultural mix of our patient population. At MetroHealth, our patient population sometimes seems like a microcosm of our world. We care for people from Puerto Rico, Mexico, Eastern Europe, the Middle East, and many African and Asian nations — not to mention the rich mix of people who make up the "native" Cleveland community. We respect and value the differences we find among our patient population. Our lives are enriched by the diversity of our patients' backgrounds and experiences. At the core of every department is the faculty. We are excited and honored to provide both hospital and community faculty who are not only skilled clinicians, but also offer a stimulating and exciting mix of interests. Our goal is to train physicians who are patient-centered and have an understanding and appreciation of the family and community systems that shape our patients' lives.

We hope this gives you a sense of the exciting heritage of education and service at MetroHealth, and the opportunities that await you at MetroHealth's Department of Family Medicine! We welcome the special talents and interests you will contribute to our family.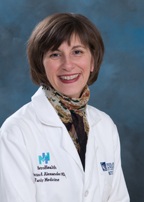 Christine Alexander, MD
Department Chair, Family Medicine