Our Residents
Welcome from Our Chiefs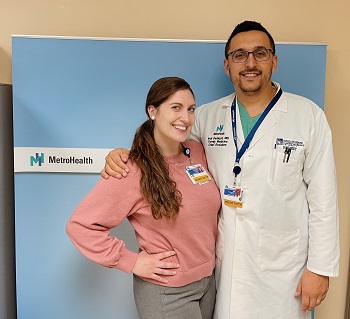 Welcome to the Family Medicine residency program at MetroHealth Medical Center/Case Western Reserve University! MetroHealth is a wonderful place to train and those who come here do so because of three unique things: The People, the Patients, and the Mission.
The amazing faculty, rewarding patient encounters, and shared mission of delivering exemplary care to the medically underserved, were just a few of the things that made MetroHealth stand out from other programs. It is a special place to train, and we were excited to complete the next steps in our medical careers here.
Our program prepares graduates to practice as hospitalists, outpatient physicians, and is a great steppingstone to fellowship training. Graduates are able and encouraged to tailor their education to the career path of their choosing, all the while learning to tackle the unique challenges faced by primary care providers in underserved communities.
The People
Our faculty is made up of an inspiring group of dedicated educators experienced in caring for patients in a variety of settings and situations. They embrace the holistic approach of family medicine by caring for the whole individual, while understanding the individualized circumstances impacting patients' lives. They constantly strive to find ways to enact positive change in their individual patients and within the community.
Some of our favorite experiences include Jail Health with Dr. Colin Crowe, Addiction Medicine with Dr. Amber Whited-Watson or Dr. Christina Antenucci, PRIDE clinic with Dr. Allison Myers, Breast Feeding Clinic and reproductive health with Dr. Meaghan Combs, and obstetrics with Dr. Allison Myers, Dr. Christine Alexander or Dr. Jaividhya Dasarathy. The list could go on and on!
We embrace the biopsychosocial model by integrating behavioral health providers into our continuity clinic and inpatient service. We learn from our behavioralists in our longitudinal education curriculum, while they emphasize the importance of understanding how the social determinants of health impact the lives of our patients. Finally, the diversity of our residents and their backgrounds enhance education by bringing unique strengths and perspectives to the program.
Our many differences allow us to learn from one another, and to focus our collective passion on treating the medically underserved. There is no comparison for how rewarding this experience feels.
The Patients
One quality of our residency in Family Medicine that separates us from others, is our commitment to our patients. As Family Physicians we are uniquely suited to provide full spectrum care to our patients, advocate for their needs and enact positive change in our community.
Every resident at MetroHealth experiences patient encounters that deeply impact them emotionally and professionally. As a safety net hospital, we focus on the care of vulnerable populations in the hospital, out in the community, and during all stages of life.
Resident experiences deepen the understanding of the field of Family Medicine and provide opportunities to effectively address the unique challenges of those most in need. Examples of our community involvement include: School Health, DOTS (Doctors on the Streets- providing care to the homeless), Recovery Resources (mental health & substance abuse), Cuyahoga County Jail (primary care and OBGYN), and the multitude of various experiences in our community medicine blocks.
These experiences solidify our commitment to this field and challenge us to become the best doctors we can.
The Mission
MetroHealth is a wonderful place to train, offering all the resources of a large academic medical center and a medically complex and diverse patient population from which to learn. Residents learn how to provide high quality care both to hospitalized patients on our rigorous Family Medicine Inpatient Service, and out in the community at our continuity clinics located in Slavic Village (Broadway) and Ohio City (Ohio City Health Center).
The culmination of these experiences, combined with the guidance and contributions of our experienced attending physicians who are leaders in their respective fields, makes the learning you do here, invaluable. If you are looking for a residency that will prepare you to care for any possible medical case, allows you to embrace the challenges and rewards of urban primary care, and are looking to train in an environment that fosters your passion to improve the lives of others, then MetroHealth Family Medicine is the place for you!

We look forward to meeting you!
Iridi Pavliqoti and Madeline Cohn
Chief Residents 2021-2022