Spinal Cord Injury Fellowship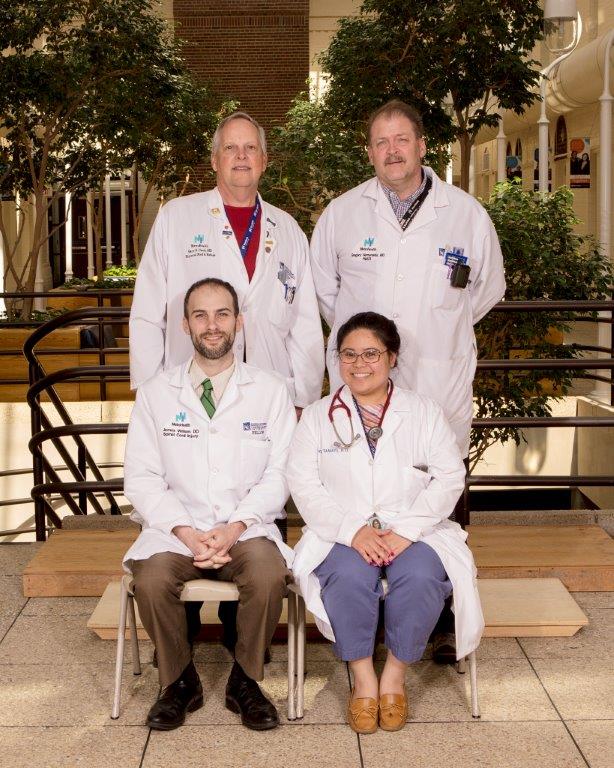 The MetroHealth Rehabilitation Institute, with Case Western Reserve University, the Louis Stokes Cleveland VAMC and The Cleveland Clinic Foundation, offers a 1-year ACGME-accredited fellowship in SCI Medicine. This fellowship program offers a unique opportunity to work in three healthcare systems, including a center funded by NIDILRR as a SCI Model System in the setting of a Level I Trauma Center (MetroHealth Medical Center), a designated Spinal Cord Injury Center and Regional Polytrauma Network within the Veterans Health Administration, and a renowned referral and treatment center for multiple sclerosis and Spinal tumors (The Cleveland Clinic Foundation). The SCIM fellow actively participates in clinical and research activities with the Cleveland FES Center, which is internationally acclaimed for pioneering research in clinical applications of FES for individuals with SCI.
Fellowship Eligibility
The SCI Medicine Fellowship is open to physicians (US citizen or work eligible) who have successfully completed an ACGME-accredited residency in PM&R, plastic surgery, anesthesiology, emergency medicine, family practice, internal medicine, neurological surgery, neurology, orthopedic surgery, pediatrics, surgery or urology. Successful completion of the fellowship program satisfies the eligibility requirement to take the SCI Medicine Certification Examination.
Fellowship Curriculum
The SCI Medicine Fellowship will include clinical experiences in the initial acute care management, acute rehabilitation and outpatient management of persons with SCI. During the various clinical rotations, the fellow will have the opportunity to work with five SCIM-certified attending physicians in addition to specialists in trauma, spine surgery, pulmonary, critical care, pediatrics, plastic surgery, urology and neurology. Clinical experiences will be integrated with other clinical disciplines such as biomedical and mechanical engineering, physical and occupational therapy, speech and language pathology, recreation and music therapy, vocational therapy, respiratory therapy and psychology.

Several unique features of this fellowship include:
"Curb-side to bedside to community'' care of individuals with SCI, starting at the time of injury through the ED/Trauma Services, ICU, inpatient Rehabilitation and into the community.
Pioneering implantable functional electrical stimulation technology, including devices for upper and lower extremity movement, bowel and bladder control, cough assist and diaphragm pacing for ventilator-free breathing.
Innovative applications of assistive technology through integration with the Department of Biomedical Engineering at CWRU
Evaluation and follow-up of state-of-the-art procedures using tendon/nerve transfers and neuroprostheses that offer functional independence for individuals with high-level tetraplegia.
New skin care techniques including pulsatile lavage, wound V.A.C. systems and electrical stimulation.
Development of skills using a variety of diagnostic equipment including ultrasound, pressure mapping, electrodiagnostics, and urodynamics.
Comprehensive management of spasticity using oral medications, electrical stimulation, neurotoxin injections, and intrathecal baclofen pumps.
Teaching activities will include medical students from CWRU and residents at each clinical site.
Unique integration of the Northeast Ohio Chapter of the United Spinal Association with patient care, resident education, research activities and wheelchair sports and outdoor adaptive recreation activities.
For information, contact: Ms. Randa Karim, SCIM Fellowship Program Coordinator (216-957-3551, or [email protected].)