Welcome from the Program Director
I am very proud of our Residency Program which has a rich tradition of educating residents in the field of pathology for over 80 years. Our fully-accredited AP/CP program offers residents an academic learning experience in a friendly, nurturing environment with close interaction among faculty, technologists, support staff, and administrative team. At the heart of our program is the institutional mission of providing the highest quality of medical care regardless of the patient's ability to pay.
The cultural diversity of our patient population, which crosses all socioeconomic strata, offers a unique and challenging array of specimen types from which our residents learn. Resident education occurs in a state-of-the-art laboratory that encounters over 2 million specimens annually.
An engaged faculty offers broad expertise in many subspecialty areas and closely supervises the residents as they gain increased levels of responsibility through a hands-on approach in their daily assignments.

As a pathology resident at MetroHealth you will learn the scientific basis, and develop a practical working knowledge, of the discipline of pathology in your daily one-on-one interactions with faculty "across the microscope" and in more formal didactic lectures and interactive teaching sessions.
You will acquire teaching skills of your own as you interact with medical students on elective rotation in the department, and present at numerous departmental and interdepartmental teaching conferences, journal clubs, and tumor boards.
You will explore the world of scientific research as you take on projects working with faculty mentors and present your work at regional and national pathology meetings.
Our program is designed to instill in our residents a lifelong love of independent learning and the requisite skills and knowledge for ultimate success in the practice of pathology. Graduates of our program attain outstanding fellowship appointments and gain rewarding positions in academic or community hospital settings. All of this is accomplished in a close interactive group within which you will develop long-lasting friendships.

So, please take time to explore the opportunities afforded by a pathology residency at MetroHealth Medical Center.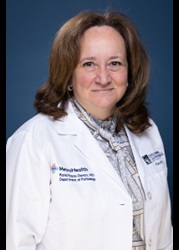 Rania Rayes-Danan, MD
Director, Pathology Residency Program
MetroHealth Medical Center
Assistant Professor of Pathology
Case Western Reserve University School of Medicine