Welcome from Program Leadership
From the Chair
The MetroHealth System has been serving the people of Cleveland and Cuyahoga County since 1837, its opening as City Hospital following a cholera outbreak in 1832. It eventually became the premier institution in the region for the care of people with contagious diseases, most notably small pox, cholera, poliomyelitis in the iron lung wards of the 1950s; rheumatic fever after the arrival of Dr. Charles Rammelkamp; and tuberculosis with various sanatoria around the City.
By the early 1900s, Cleveland City Hospital was the fourth largest hospital in the United States. When you choose to train at MetroHealth, you become part of its rich history.
Our Mission, "Leading the way to a healthier you and a healthier community through service, teaching, discovery and teamwork," is not just a slogan but a deeply held principle for all 8,000 employees. MetroHealth serves an underinsured community with historical healthcare disparities.
The talented faculty, nurses and allied health professionals work here by choice, each sharing in the goal of providing high quality care regardless of our patients' ability to pay. It's been that way forever; the very earliest physicians volunteered to work without pay as they felt so strongly about the mission.
MetroHealth is a well-respected academic medical center and a major teaching hospital of Case Western Reserve University School of Medicine. Our affiliation with CWRU SOM has existed for over a century and our faculty have been teaching medical students and resident physicians for nearly 180 years. A majority of third and fourth-year CWRU medical students rotate through MetroHealth every year. In addition, students from NEOMED also complete their clerkships with us.
The Department of Medicine has 200 faculty in 12 divisions and is known for its strong teaching culture and commitment of our faculty to teaching and learning. MetroHealth is a very busy place and an ideal training location. In 2017, we provided 1,250,000 ambulatory visits, 140,000 emergency department visits, and admitted 25,000 patients. In addition, we provide care in over 25 ambulatory clinics. In fact, 97% of the residents of Cuyahoga County live within ten minutes of a MetroHealth location.
The MetroHealth System has embarked on a $960 million campus transformation project that will culminate in the building and opening of a new hospital in 2022. This is certainly an exciting time to be here. I hope you will come and visit our program, meet our faculty and residents, enjoy our welcoming and collegial environment, and see for yourself the many strengths our department and health system offer.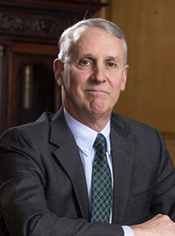 Richard J. Blinkhorn, Jr., MD
Charles H. Rammelkamp, Jr., Professor of Medicine
Chairman, Department of Medicine
---
From the Program Director
Thank you for your interest in the MetroHealth Internal Medicine Residency Program. Our program has a long tradition of training outstanding internists in a rigorous yet warm and collegial environment, and our graduates complete their training eminently qualified to enter fellowship training or to take positions as hospitalists and primary care physicians.
The MetroHealth Department of Medicine has made landmark contributions to the world of medicine including the SOAP note, the firm system, and some say, morning report (although we can't conclusively prove that last one!). In the rapidly changing landscape of the U.S. healthcare system, we continue to place a high value on innovation and adaptability.
Hallmarks of the residency include caring for a patient population with diverse and complex illnesses, a faculty unusually invested in their teaching mission, graduated and carefully calibrated resident autonomy, opportunities for resident leadership and support for real resident-led change. At the heart of the MetroHealth Internal Residency Program is a faculty who are passionate about caring for those with the greatest need and who are equally passionate about training residents who will do the same.
In addition to clinical and educational excellence, the program prioritizes teamwork, camaraderie, diversity, and resident wellness. We are delighted to be in the resurgent city of Cleveland which combines an affordable cost of living with its status as one of the nation's leading medical and innovation centers.
We are enormously proud of our diverse offerings including one of the world's finest orchestras, three major league sports teams, an outstanding food scene, and a vast array of outdoor recreational activities including the Cuyahoga Valley National Park and the Lake Erie coast. We hope you'll consider interviewing at MetroHealth to learn more.
With warmest regards,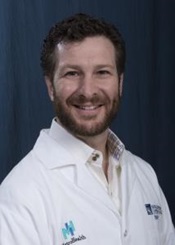 W. Chad Cook, DO
Program Director, Internal Medicine Residency
Assistant Professor, Case Western Reserve University School of Medicine