General and Pediatric Dental Medicine Training Programs
Offering both General Practice and Pediatric Dentistry Residency training programs.
For more information, please email us.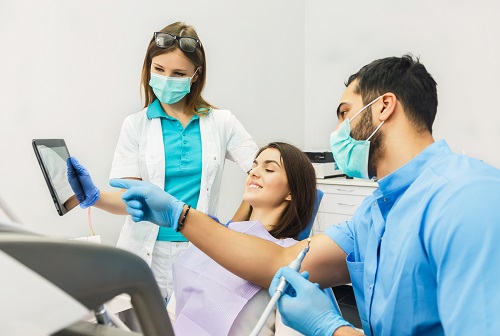 Dental Medicine Residency
MetroHealth Medical Center offers two Dentistry Residency programs: a General Practice Dentistry Residency program and a Pediatric Dentistry Residency training program. Both paths present residents with the opportunity to hone their current skill set while acquiring new skills and practicing a large number of dental procedures.
General Practice Dentistry Residency Program
The General Practice Dentistry Residency Program is disciplined, demanding, and fast-paced. Residents are held to high clinical, professional and ethical standards and work alongside our dental staff in:
Medical Management
Oral Pathology
Fixed and Removable Prosthodontics
Periodontal Therapy
Endodontics
Oral and Maxillofacial Surgery
Operating Room Procedures
In addition to clinical training, residents also receive more than 35 hours of comprehensive business and practice management education. Our practice management curriculum covers such areas as:
How a dental insurance company operates
Excellent customer service
Human resources issues
Managing a multi-chair dental practice
Infection control for the dental environment
Ethics of dental practice
Professional conduct
Culture and diversity
Starting a practice from the ground floor
What to look for when purchasing a practice
Upon completion of our residency program at MetroHealth, residents are proficient and talented dentists with the ability and skills to successfully position themselves in the marketplace to begin a rewarding career.
---
Pediatric Dentistry Residency Program
MetroHealth's Pediatric Dentistry Residency Training Program is a small and selective program with a 2:1 resident to faculty ratio. All members of our faculty are board-certified, full-time pediatric dentists.
Generally, all Pediatric Residency Programs are required to offer a specific curriculum as set forth by the American Association of Pediatric Dentists. We are accredited by the Commission on Dental Accreditation (CODA) and invite you to visit the ADA website to learn more about clinical and didactic requirements.
---
Application Process
If you are interested in pursuing a challenging and rewarding residency experience, please contact the Program Coordinator and request an information package. MetroHealth participates in the National Matching Service and is accredited by the Commission on Dental Accreditation (CODA).