Our Leadership
Welcome From the Chief of Cardiology
Dear Prospective Fellow,
You are about to embark on the most interesting and important part of your career. You likely have been looking forward to this for most of your life. What you learn in these three years, you will use for the rest of your career. We are excited to train you in your desired craft. It is our passion.
MetroHealth has a long history of training excellent cardiologists. Our fellows routinely pass the boards, obtain subspecialty training in their desired specialty and obtain faculty positions at prestigious institutions. More importantly however, when they return, they tell us that they were well-trained to begin a career in cardiology. MetroHealth faculty take great pride in producing well-educated and capable cardiologists. We look forward to guiding you in your journey to be the best.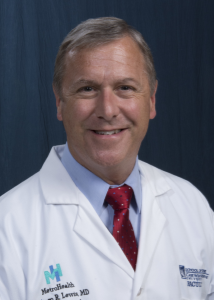 William R. Lewis, MD
MetroHealth Medical Center Heart and Vascular Center Director
Case Western Reserve University Rakita-Moss Professor in Cardiology
Welcome From the Cardiology Fellowship Program Director
The Heart and Vascular Center is a state-of-the-art academic cardiovascular program. The Cardiovascular Disease Fellowship Training Program was designed to provide innovation in all aspects of contemporary cardiology.
The Center is comprised of four integrated units: Clinical Cardiology, Cardiothoracic Surgery, Vascular Surgery and The Heart & Vascular Research Center, providing a robust interdisciplinary environment for training. In addition, the Arrhythmia Prevention Center offers diagnosis and treatment of patients at risk of sudden cardiac death, offering you a unique learning environment.
We offer multidisciplinary conferences in emergency medicine/cardiology, interventional cardiology/CT-MR imaging and translational cardiology involving basic scientists and clinicians, providing you with unique insights across a variety of disciplines.
Our training facilities are state-of-the-art. For example, we utilize a lifelike human torso in our Cardiovascular Clinical Training Center. This tool provides computer-simulated heart and breath sounds, and it can help you to hone your physical examination skills. In addition, there are stations for hands-on education, programming and troubleshooting of devices such as implantable cardioverter defibrillators and pacemakers.
We also provide a host of online resources including e-access to major cardiovascular textbooks. Real-time live catheterization laboratory demonstrations are provided using remote video monitoring in the Bahler Cardiovascular Conference Center, allowing multiple fellows to observe and question faculty operators during actual cases.
So what can you expect? Upon completion of your training you will, of course, be Board-eligible in cardiovascular diseases. However, you will receive much more from your training at MetroHealth.
You will become an outstanding evidence-driven consultant cardiologist, you will have unique expertise in the application of pathophysiological principles to clinical decision making, you will have presented a paper(s) at a major cardiovascular meeting, you will have first-authored a manuscript(s) in a major peer-reviewed cardiology journal, and we are confident that your training will stimulate your core values for compassion, ethics and integrity in total patient care.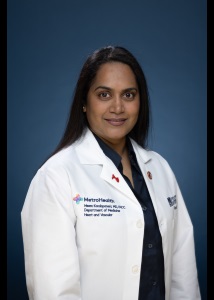 Meera Kondapaneni, MD, FAC, FSCAI
MetroHealth Medical Center Cardiology Fellowship Program Director
Case Western Reserve University Assistant Professor
Ashish Aneja, MD – Associate Program Director
Kenneth Laurita, PhD – Research Director
Autumn Hepler-Franko, MAEd – Program Coordinator