Welcome from Program Leadership
Message from the Chair
We welcome you into a collaborative environment that champions diversity and inclusion and reflects our community in Northeast Ohio.
The Anesthesiology Family at MetroHeath is committed to providing an exceptional quality of care to the members of our community, regardless of their financial circumstances.
We share this mission with the entire team at MetroHealth, and, as a result of this focus, significant investment is being made on our main campus and across the enterprise.
Today, we operate a Level 1 Trauma Center as well as a regional burn center and are in the final stages of completing a $1B capital improvement that will include a new, state-of-the-art inpatient tower.
As a resident, you will benefit from working alongside our outstanding clinicians while leveraging the latest technological advances in medicine today.
The residency training program in the MetroHealth Department of Anesthesiology offers a wealth of opportunities for research, clinical expertise and leadership.
Our affiliation with the Case Western Reserve University School of Medicine increases those possibilities and underscores the quality of education and training you will receive as a member of our residency program.
On behalf of our residents and faculty, I hope you will find our program's mission, tradition and future vision as inspiring as we do.
We're proud of the work we do, the service we provide to our community and the care we deliver to those in need. We look forward to welcoming you as a member of the MetroHealth Department of Anesthesiology team.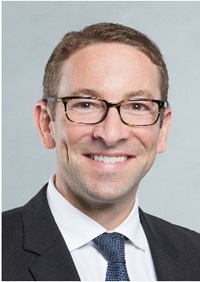 Luis E. Tollinche, MD
Chair, Department of Anesthesiology
From the Program Director
I am very pleased to be the Program Director of such a wonderful and dynamic residency program. At MetroHealth Medical Center, we have a group of fine resident physicians who inspire me and our entire faculty.
I enjoy working closely with them and helping them to achieve their goals. My main goal as Program Director is to ensure that our residency program provides the best educational experience possible.
The Department of Anesthesiology helps our residents accomplish their professional goals. We offer the guidance and the support they need to take the next step beyond residency. On the way to striving for their goals, they become consultants in anesthesiology.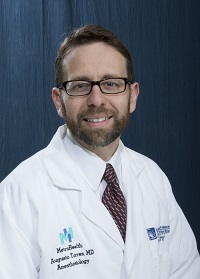 Augusto J. Torres, MD
Director, Anesthesiology Residency Program, The MetroHealth System
Assistant Professor, Case Western Reserve University School of Medicine
From Our Chief Residents
Welcome to MetroHealth's Department of Anesthesiology Residency Program - a premier anesthesiology training program.
Located in Cleveland, Ohio, MetroHealth offers exceptional clinical training with rotations at MetroHealth; Cleveland's major Level I trauma center and high risk OB center; The Cleveland Clinic, and Cleveland's Veteran's Affairs Hospital.
Our MetroHealth graduates secure competitive fellowships, extraordinary opportunities in private practices, and leadership roles in the field.
The Anesthesiology Department is comprised of 24 residents, 29 attendings, 45 anesthetists, and a number of anesthesia technicians. Each incoming class will be composed of 7 residents; 3 categorical positions and 4 advanced positions.
At MetroHealth, more than 25,000 cases are performed every year, including cardiac, thoracic, vascular, high risk obstetric, pediatric, high volume trauma, acute and chronic pain, and remote (endoscopy, radiology, etc.). Every anesthesia resident contributes to over 400 anesthesia cases annually.
Since there are no fellows, residents are provided the bulk of cases with fellowship level training.
Continuing education is also a top priority. Residents are relieved from clinical duties twice per week to attend anesthesiology resident-only lectures given by our attending physicians (meals are always provided).
In addition, there is a weekly department-wide meeting on various clinical topics or mortality and morbidity conferences. MetroHealth's dedication to resident education is proven by good resident performance on national board exams.
Residents prepare by meeting in study groups with attendings and twice a year, mock oral board examinations are provided.
Also, a generous $7,500 resident educational fund is given per resident for textbooks, digital technology, equipment, and to fund attendance at local, state, and national anesthesiology conferences.
What makes the MetroHealth anesthesia program unique is the supportive learning environment and the camaraderie between both residents and faculty.
When residents arrive as CA1s they are paired with a senior resident that will show them the ropes and provide a smooth transition into the OR environment.
Residents are also paired with a faculty mentor for the entire residency. The mentorship is strong – ensuring that no resident is left behind. We are also very fortunate to have a program administration that both asks for our input, and responds to our concerns.
Finally, Cleveland is a hidden gem city. Affordable living on the Great Lakes, second largest theater district in the country, national renowned orchestra, numerous museums, three professional sports teams, countless festivals, national awarded state parks, and some of the best breweries in the country!
All located in the city of the Rock & Roll Hall of fame, and just few hours drive from other major cities and attractions. As Cleveland continues to thrive, residents are provided with a great living opportunity that exceeds expectations! For more information, see Living in Cleveland.
Thank you for your interest in MetroHealth and Cleveland. We would love to meet you to show you our program first hand. Please contact us with any questions or for additional information on life as a MetroHealth Resident. We hope to see you at an interview.

Adrienne Gomez, MD
Chief Resident

Daniel Guay, MD
Chief Resident